Selling your metal scraps to a yard isn't just beneficial to you, but it also helps the environment. It allows us to take advantage of some of the metals we already have and put them into rotation. This way, metals don't need to be mined as much.
If you are a person that enjoys at-home projects or you have a business that utilizes insulated wire, then bring it over to us. Call or visit us for more information about selling your insulated wires today.
Sell your Insulated Wire
Examples of some of these businesses include electric companies & contractors, developers, builders, and much more. If you are in this line of work, you can always sell your scraps to us. Insulated wires are also used in the home for many different things. If you are someone who fixes or adjusts the wiring in your home, you can also bring your leftovers to us.
By selling your insulated, you can make some extra cash. We buy various types of wires. These include aluminum and copper wires. Read more about the types and grades of insulated wires that we accept, examine what you have, and sell it at Astro City today!
Types of Insulated Wire
The variety of wiring has increased now that there are so many different uses for them. For many that are familiar with wiring, there are different grades of insulated wires. All of them look different, are used for different things, and are recycled differently.
You don't necessarily need to know the grade you have before you come in, but it is good to know the difference. This way, you can make sure you are bringing in a type that we accept.
Number 1 Insulated Wire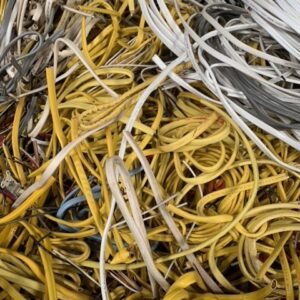 For Number 1 insulated wire, there are various wires that can fit in this category. The thickness of the wire material classifies this specific wire on the inside. Romex is the most common type of No. 1 insulated wire. The copper on the inside of this wire is not your standard copper; instead, it is solid copper.
In addition, to the type of copper, you can also classify this kind of wire by comparing it to the width of the lead in a number 2 pencil. It should be this width or larger.
Number 2 Insulated Wire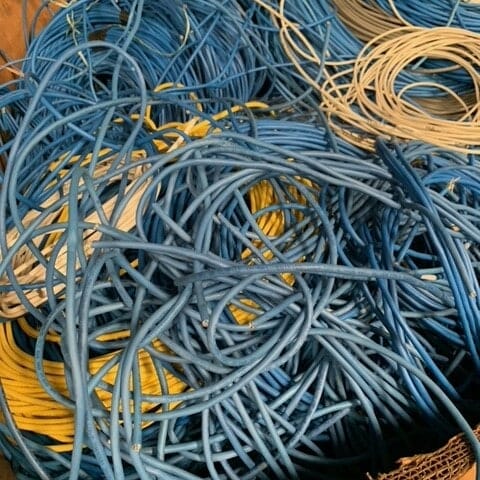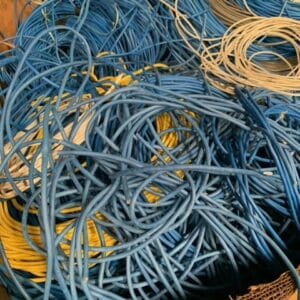 Category 5 and 6 communication wires are the most common types of No. 2 insulated wires. For a number 2 insulated wire, it is similar to the number 1, but it has an even greater range of wires that can fit in their category. The main difference between number 2 wires and number 1 wires is the width of the copper. Number 2 wires contain smaller and thinner wires than number 1.
Look at your wires and differentiate them so you know what you are bringing in.
THHN Cable & Wire (10 &12)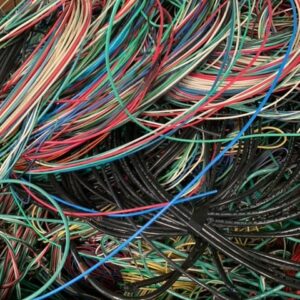 This kind of cable or wire is common. Most electricians use it in their everyday jobs and are familiar with they what they look like. THHN wires have a bare copper wire running through them and are usually insulated with plastic.
The information on the wire indicates material, gauge, and max voltage. Each letter stands for a different aspect of the use of the wire. T stands for Thermoplastic insulation, HH for the heat resistance that goes up to194 degrees Fahrenheit, and N for the nylon coating. This particular cable is used in homes the most. So, look out for this kind of wiring because you can bring it in to be sold.
HR Wire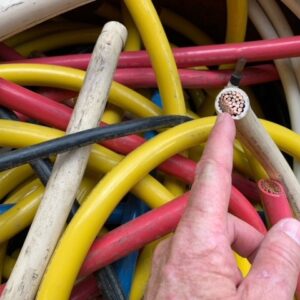 For this wire or cable, copper is also running through the inside. The color of the copper is more bright than others, and it is also is covered by plastic insulation. In addition to this, some of them are covered by a single plastic insulation. This means there can be up to 3 HR wires in a large plastic insulation.
HR stands for heat resistant. Depending on the industry, the amount of heat a cable can take is extremely important. This cable allows for a significant amount of heat, and that is what makes it useful for these industries.
We accept HR wires, so bring them in today.
Insulated Wire Pricing
In the United States and just general, the price for metal material changes. The price does usually change every day. So depending on the day you come in, and the rate of the metal will be different. Thankfully, we always give the best competitive rate to every customer. This way, you get the best for what you bring in.
So bring and sell your insulated wires and cable today with us at Astro City. For more information or any questions about our pricing, give us a call.
Our Live Prices
Prices subject to change so always call to confirm prices. Astro City Scrap will always try to meet or beat any local price.
CALL FOR SPECIAL PRICING ON LARGE LOADS.
Last Price Update: 12/05/2023 08:25:09 AM America/Chicago
High Recovery 90% or more (Big Wire)
$3.00 per lb
#1 Insulated (Size 10 and 12 THNN)
$2.50 per lb
#1 Insulated (Romex)
$2.00 per lb
#2 Insulated (Cat 5 or Cat 6)
$1.45 per lb
Heliax Cable Open Eye
$1.60 per lb
Extension Cord
$0.85 per lb
Aluminum Copper Radiator (Clean)
$1.65 per lb
Aluminum Copper Radiator (Dirty)
$1.50 per lb